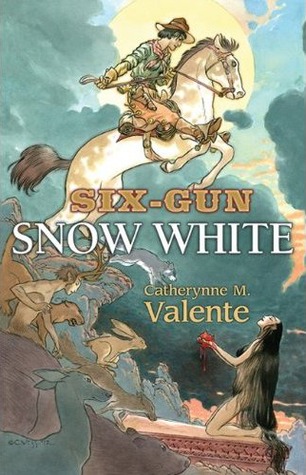 Six-Gun Snow White by Catherynne M. Valente
★★★★☆
A plain-spoken, appealing narrator relates the history of her parents—a Nevada silver baron who forced the Crow people to give up one of their most beautiful daughters, Gun That Sings, in marriage to him. With her mother's death in childbirth, so begins a heroine's tale equal parts heartbreak and strength. This girl has been born into a world with no place for a half-native, half-white child. After being hidden for years, a very wicked stepmother finally gifts her with the name Snow White, referring to the pale skin she will never have. Filled with fascinating glimpses through the fabled looking glass and a close-up look at hard living in the gritty gun-slinging West, readers will be enchanted by this story at once familiar and entirely new.
Sometime last year I tried to read Valente's middle grade series and thought to myself, "This would be so much better on audiobook." So I put it down. And when I saw my library had the audiobook version of this book, I knew I had to listen to it.
And let me tell you, I was not wrong. Valente's writing is
made
for reading aloud. There was just something really captivating about listening to it. Thanks, in no small part, to the absolutely fantastic narrator (Julia Whelan). It was really a fantastic listening experience. It's also quite short, clocking in at just 3 hours, so I'd definitely recommend picking it up!
And the story. Oh. Valente can
write
, holy smokes. The narrative had a real magical quality to it. Still, this is probably more a 3.5 star book than a true 4 star one in my opinion. I don't think the shift in point-of-view from part 1 to part 2 was necessary. And the ending was just a little bit too "meh" for me. And I know that this is short fiction, but I personally want more, so much more, from the explanations other then the sort of hand-wavey "ah, it's magic" kind of deal we got.
Still. This was a very strong start to a new year of reading and a book I would absolutely recommend if you're interested in retellings in general.