Author Interactions
Let me be real here, I am absolutely terrible when it comes to meeting famous people. I just lose every perfectly constructed sentence I have ever thought of and turn into a mess.
I think this is probably because I haven't had much opportunity to interact with them. My city is fairly small and the nearest major stop for most tours and events is a 3 hour drive. It's one I make fairly regularly, but we still don't get a lot.
It's probably why I spend most of Comic Expo just watching from afar.
But still, I have managed to brave the queue a time or two... especially when there's books involved.
This year at Expo marked the second time I met Max Brooks. The first time was in 2012. My friend and I barely even had to wait in line! I even managed to tell him how
World War Z
made me want to be a better writer. He was super pleasant and signed some stuff for us and told us to "take care of each other".
We walked away incredibly pleased that we'd actually managed to speak coherently and like normal people before fangirling like maniacs.
This year, he was back at Expo. In 2012, my friend and I had totally forgotten to bring our copies of
World War Z
, but we were more prepared this time. We psyched ourselves up in the (short) line.
Brooks, as it turns out, was eavesdropping on us. Because the inscription he put in my friend's book was basically word-for-word about how we were normal people and that we could totally do this and we were cool. It was
hilarious
.
My inscription looks like this:
Oh my god I can't believe I'm meeting you! OMG! OMG!
"There," he said to me, "now we're both really excited to have met each other."
It was pretty much the best thing ever.
With author interactions becoming more common online, I don't know how this will change things for me. I nearly
died
when Rainbow Rowell favourited a tweet I'd mentioned her in. So, I feel like I will probably fangirl hard for the foreseeable future.
More Than Just Words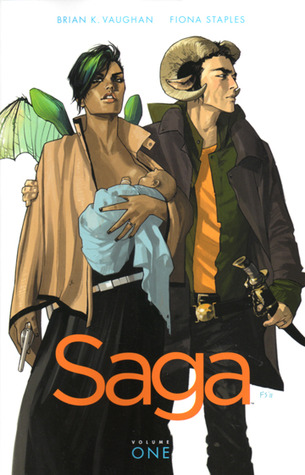 I have been a lover of graphic novels for a long time now. I don't know that I have a lot to add to that
Saga
, as I see a lot of people have done. It's a great series!
conversation that hasn't already been said. But I will throw a plug out there for
I want to specifically talk about audiobooks today, because this is something totally new for me.
I discovered
SYNC
two weeks ago after some blog-hopping and decided to give it a go. If you're unfamiliar, it gives you access to two free audiobooks a week during the summer--one YA and one classic. The schedule is posted, so check it out to see if there's anything that catches your eye.
I started listening to this week's YA pick on the weekend.
Cruel Beauty
by Rosamund Hodge. The book itself had caught my interest, so I figured why not give the audiobook a try.
It's definitely a different experience, listening with intent. A lot of times I put music on as background--I don't have to be 100% engaged. But audiobooks are different. You have to be paying attention, lest you miss something.
That said, I
am
enjoying the experience. I'm still focused on the task, but it's a different sort of energy I'm expending as opposed to reading a book myself. I find the narrator of this book--Elizabeth Knowelden--to be easy to listen to. Though sometimes I get a little confused when different characters speak back and forth since I can't see the quotation marks! That, and sometimes it's hard to tell what is to be spoken aloud and what the main character is just thinking to herself.
But still, it's new territory and I'm glad I took the risk. Someone during a Bout of Books chat recommended I try audiobooks to solve the problem of reading in the car. (I can't do it as a passenger, it makes me ill.) With roadtrips in my future, I'm definitely going to have to give it a go!
What do you think about these topics? Let's chat in the comments! And feel free to link me to your ArmchairBEA posts for today as well!