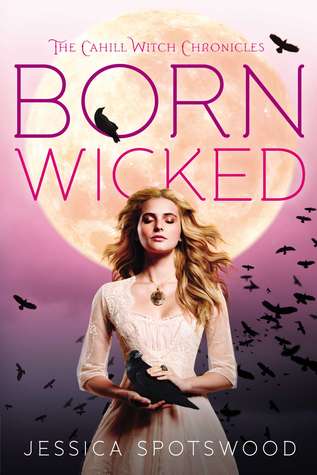 Born Wicked (The Cahill Witch Chronicles #1) by Jessica Spotswood
★★☆☆☆
Everybody knows Cate Cahill and her sisters are eccentric. Too pretty, too reclusive, and far too educated for their own good. But the truth is even worse: they're witches. And if their secret is discovered by the priests of the Brotherhood, it would mean an asylum, a prison ship—or an early grave.

Before her mother died, Cate promised to protect her sisters. But with only six months left to choose between marriage and the Sisterhood, she might not be able to keep her word... especially after she finds her mother's diary, uncovering a secret that could spell her family's destruction. Desperate to find alternatives to their fate, Cate starts scouring banned books and questioning rebellious new friends, all while juggling tea parties, shocking marriage proposals, and a forbidden romance with the completely unsuitable Finn Belastra.

If what her mother wrote is true, the Cahill girls aren't safe. Not from the Brotherhood, the Sisterhood—not even from each other.
I kept setting this book down because it just wasn't really holding my interest. When I thought to pick it up again, I usually breezed through 100 pages or so before setting it down again.

Not that it was a bad book, but it just wasn't anything super exciting. The premise is really interesting and the world becomes more complex as things get going, but overall things faltered because of mediocre execution.

Cate is an interesting narrator, but she holds up the progression of the story for chapters at a time because of her stubbornness and unwillingness to yield to change. It becomes exhausting at times. And there's a little too much, "everyone knows something you don't know" going on here for my tastes. I don't mind a good mystery, teasing out the unknown from the narrative. But Cate throws up roadblock after roadblock that it's almost impossible to get at those hidden details until they're basically right on top of you.

There are some interesting plot threads that have yet to be tied up, but I'm not sure if I actually want to go through the trouble of reading the next two books in the trilogy or if I'd rather just seek out spoilers on the internet.