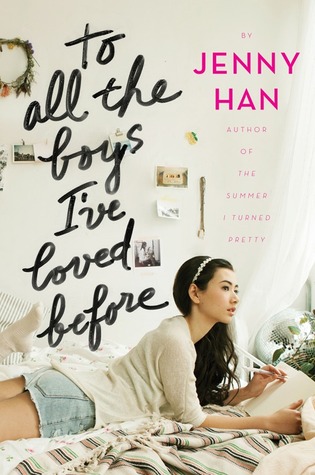 To All The Boys I've Loved Before by Jenny Han
★★★☆☆
Lara Jean keeps her love letters in a hatbox her mother gave her.

They aren't love letters that anyone else wrote for her, these are ones she's written. One for every boy she's ever loved—five in all. When she writes, she can pour out her heart and soul and say all the things she would never say in real life, because her letters are for her eyes only. Until the day her secret letters are mailed, and suddenly Lara Jean's love life goes from imaginary to out of control.
This book is pretty much what it says on the tin: a cute contemporary read.
It doesn't do anything unexpected and it isn't really a novel with much depth. The romantic angle the book takes isn't exactly what you're anticipating at the start, but from there it becomes fairly conventional.
One of the highlights is Lara Jean's relationship with her family members. There's a strong bond of sisterhood--and the novel spends time looking at how distance changes that relationship. Lara Jean's father is also fairly present and involved in the goings on of his daughters, which is nice to see.
I also appreciated Han's intentional choice to make Lara Jean Korean American. I'm a huge supporter of more diversity in books.
I didn't mind the "open" ending here as I know some people did. Though, I've heard this is going to be a duology and I'm not sure how I feel about that. While the ending here didn't necessarily offer any definite conclusions, I liked how things were sort of left up to the reader. We'll see how book 2 goes, I suppose.
That said, I would've liked to have had more complexity overall in the book. I expected Lara Jean's letters to be longer, and for more time to be devoted to reading them and understanding why she'd written them. There were also a number of common high school drama themes the story touched on, but never really did much about in the end.
Still. If you need a feel good book that doesn't require effort to read, I'd pick this up. It was cute, fluffy and perfect for my mood at the time.