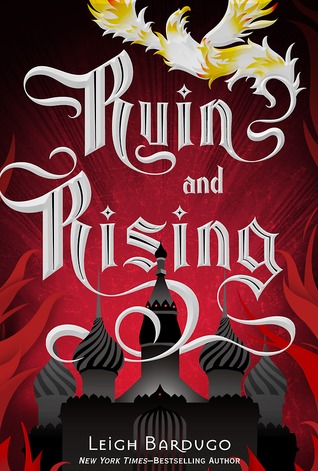 Ruin and Rising (The Grisha #3) by Leigh Bardugo
June 17, 2014
The capital has fallen. The Darkling rules Ravka from his shadow throne.

Now the nation's fate rests with a broken Sun Summoner, a disgraced tracker, and the shattered remnants of a once-great magical army.

Deep in an ancient network of tunnels and caverns, a weakened Alina must submit to the dubious protection of the Apparat and the zealots who worship her as a Saint. Yet her plans lie elsewhere, with the hunt for the elusive firebird and the hope that an outlaw prince still survives.

Alina will have to forge new alliances and put aside old rivalries as she and Mal race to find the last of Morozova's amplifiers. But as she begins to unravel the Darkling's secrets, she reveals a past that will forever alter her understanding of the bond they share and the power she wields. The firebird is the one thing that stands between Ravka and destruction—and claiming it could cost Alina the very future she's fighting for.
Aaaaah. The conclusion to this trilogy is so close I can almost taste it.
With
Siege and Storm
fresh in my mind I cannot wait to see where this final book will take us. With book 2 came many unexpected twists, so I know better than to trust this book at all!
Alina has become a very different person with the amplifiers and I wonder what her new-found cruelty will cost her. And how on earth are we going to defeat the Darkling? And at what cost? (Ack, I am actually super worried about the death toll of this book, not going to lie.)
Also, I need more Sturmhond in my life. Come on!