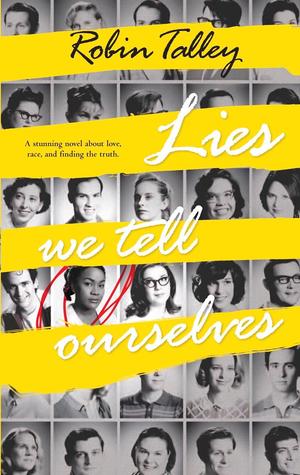 Lies We Tell Ourselves by Robin Talley
★★★☆☆
In 1959 Virginia, the lives of two girls on opposite sides of the battle for civil rights will be changed forever.

Sarah Dunbar is one of the first black students to attend the previously all-white Jefferson High School. An honors student at her old school, she is put into remedial classes, spit on and tormented daily.

Linda Hairston is the daughter of one of the town's most vocal opponents of school integration. She has been taught all her life that the races should be kept separate but equal.

Forced to work together on a school project, Sarah and Linda must confront harsh truths about race, power and how they really feel about one another.
2.5 stars.
Oh, I wanted to like this a lot more than I did. Darn it. Talley is writing about some incredibly important topics here and that's why I wish I felt more than just lukewarm about this book.
I've seen some people criticize this book for trying to take on "too many issues at once". As though racism and sexuality can always been squared away and neatly separated from each other. As though queer people didn't exist in the 50s. Yeah, alright.
That said, I wasn't a huge fan with how the sexuality plotline was handled a lot of the time. There is some build up, but it isn't super believable. I never fully bought into the fact that Linda wasn't totally straight. And I didn't really understand how Sarah could be falling for such a racist.
Because yeah, Linda is really racist. And that's definitely the point. Which is fine. Because you get the idea that she's supposed to grow and change as the book goes on. Which she does, but she still has some really racist views, even at the end of the book. Oh Sarah, I get that it's fun to argue with her, but you can do better, really.
The torment that Sarah and her peers go through at school is difficult to read about. As it should be. Talley has done her research here and it shows. It is profoundly uncomfortable and heartwrenching to know that this (and worse) really happened in our not-so-distant past. Though, I admit, I'd like to see an author who is actually a person of color tackle the topic as well.
And there was just something about the writing. I can't quite put my finger on it. But I was never truly immersed. I didn't feel the attachment to the characters. I just never got sucked in. I read it in a day, so it's not as though I was totally put off by it, but I found myself starting to skim-read in places, which is never a good sign.
Overall, I'm torn about whether to recommend this or not. On the one hand, it is a super important topic to read about. On the other, I wasn't a huge fan of the writing. I don't know, maybe go seek out some non-fiction from the time? Or fiction by authors of color.