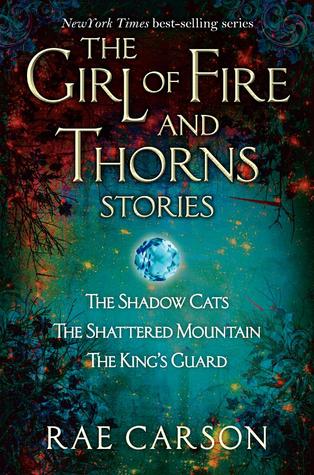 Girl of Fire and Thorns Stories (Fire and Thorns #0.5-0.7) by Rae Carson
July 22, 2014
The Shadow Cats is told from the perspective of Elisa's older sister. Discover how their sibling rivalry looks from Alodia's viewpoint, and find out why Alodia agrees to marry her sister off to King Alejandro of Joya de Vega.

The Shattered Mountain revolves around Elisa's best friend and handmaiden, Mara. Before she meets Elisa at the rebel camp in The Girl of Fire and Thorns, she suffers her own tragedy. Her village is destroyed and she must lead the few young survivors to safety.

The King's Guard centers on Hector, Commander of the Royal Guard and Elisa's true love. Set years before The Girl of Fire and Thorns, it shows us fifteen-year-old Hector as a new recruit. He must prove himself—and he discovers a secret he must keep forever.
!!!!!!!!!
I don't know how I'm going to talk about this without flailing all over myself.
I read the
Fire and Thorns
trilogy in its entirety earlier this year and just
loved
it. Like. You don't even understand. It's probably one of my favourite trilogies
of all time
.
I knew these prequel stories were out in ebook form when I was reading the trilogy, but I didn't really have any desire to seek them out. I'm not super huge into ebooks right now. And plus, I saw that this collection was being published in paperback form soon.
So soon!
I absolutely cannot wait to be back in this world. I'm excited to see what Alodia has to say for herself in the first story. And I really want to know more about Mara. And ughhhhhh,
Hector
. I just. Can you say book boyfriend? I am so ready for this.