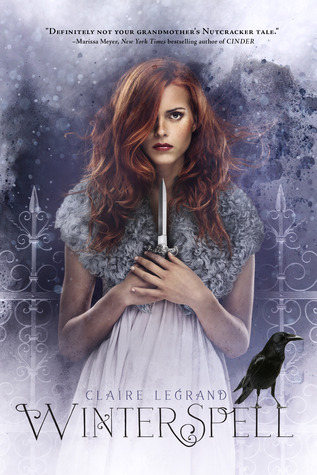 Winterspell by Claire Legrand
September 30, 2014
New York City, 1899. Clara Stole, the mayor's ever-proper daughter, leads a double life. Since her mother's murder, she has secretly trained in self-defense with the mysterious Drosselmeyer.

Then, on Christmas Eve, disaster strikes.

Her home is destroyed, her father abducted--by beings distinctly not human. To find him, Clara journeys to the war-ravaged land of Cane. Her only companion is the dethroned prince Nicholas, bound by a wicked curse. If they're to survive, Clara has no choice but to trust him, but his haunted eyes burn with secrets--and a need she can't define. With the dangerous, seductive faery queen Anise hunting them, Clara soon realizes she won't leave Cane unscathed--if she leaves at all.
If you couldn't tell already, I'm really intrigued by retellings. And even though it's a little hazy now, I do remember having some sort of fixation with
The Nutcracker
as a child. There was a TV movie, I think. I watched it a lot.
This retelling sounds dark and moody. And truthfully, I can't wait!